Bruce Springsteen
and the E Street Band bring the 2013 leg of their
Wrecking Ball
Tour to the
Ricoh Arena
. It was the first time I'd seen Broooooce and the gang since Hard Rock Calling in Hyde Park back in 2009, so I was more than ready to do the E Street Shuffle...
The Ghost Of Tom Joad
before bringing the full might of the newly-expanded E Streeters to bear on a lovely
Long Walk Home
and a glorious charge through
My Love Will Not Let You Down
- definitely not playing it safe by giving us "hits", but instead just damn good songs. The loose
Wrecking Ball
theme of "hard times come and hard times go" was reflected in a venomous version of
Seeds
, a blue-collar anthem from way back in the '80s which still resonates today with its tale of working people facing economic realities. The more things change...
After mass crowd singalongs to the evergreen
Hungry Heart
and an absolutely spine-tingling take on
The River
, Bruce announced the band were going to play the
Born To Run
album from start to finish and dedicated it to their "great friend" the actor James Gandolfini who had died that day...
Above is Mr. Gandolfini in his most famous role as Tony Soprano, with E Street guitarist "Miami" Steve Van Zandt ( with amazing hairpiece! ) as Silvio Dante. I watched the first couple of seasons of
The Sopranos
then kind of lost track of it and always wished I'd persevered. I'll have to invest in some box-sets and catch up. On the way to the venue that night I had seen a massive video screen outside the Coventry Transport Museum, showing a BBC News tribute to James Gandolfini, and was expecting there to be some mention of him at the gig. The romantic
film noir
rock 'n' soul of
Born To Run
was the perfect choice...
Thunder Road
echoed around the arena. ( I'm such a pushover! ) BTR is not only my favourite Bruce album, but my favourite album, full-stop. ( For further dribblings on the subject see my long-lost
15 Albums
blog. ) Suffice it to say, I was in hog's heaven for the next 40 minutes or so as the modern E Street Band did a brilliant job of replicating the sound of 1975 - especially Jake Clemons who treated us to a wonderful rendition of his late uncle's beautiful sax solo from
Jungleland
. And Springsteen's vocals were out of this world. He's still got it, alright!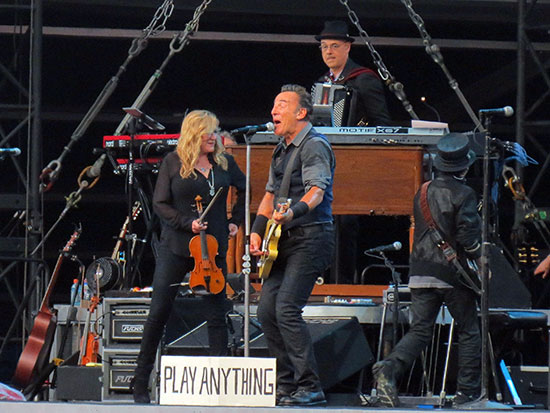 ( Picture above courtesy of Backstreets.com )
Before you get the impression this was all a bit too worthy, let me tell you that the E Street brothers and sisters
rocked out
for all they were worth. The greatly-expanded collective now incorporates elements of folk, soul and gospel into Bruce's music, bringing the party to the people. And Bruce himself? Well, he's still the most energetic, committed and passionate frontman in rock 'n' roll, giving 100% every time. The sign request in the photo above from one of Bruce's many forays into the crowd says it all, really. Bruce and his band can and do play anything and everything in their ongoing mission to give their audience the best night... every night. And I'm sure the three women, one 9-year old boy and one guy called Evan who was looking for a "man hug" from Bruce all agreed as they were dragged onto the stage for their moments in the spotlight :-)
After playing big hits (
Dancing In The Dark
,
Born In The USA
), future classics
(
Shackled And Drawn
,
Death To my Hometown
) and the obligatory soul cover version (
Raise Your Hand
) Bruce ended the three-hour set with the Pogues-folk/punk stomper
American Land
, a wild and raucous conclusion to another awesome set from the greatest rock 'n' roll band on Earth. Long may they run...
( Also courtesy of Backstreets.com, here's the full set-list... )
The Ghost of Tom Joad
Long Walk Home
My Love Will Not Let You Down
Two Hearts
Seeds
Trapped
Long Time Comin'
Wrecking Ball
Death to My Hometown
Hungry Heart
The River
Thunder Road
Tenth Avenue Freeze-out
Night
Backstreets
Born to Run
She's the One
Meeting Across the River
Jungleland
Pay Me My Money Down
Shackled and Drawn
Waitin' on a Sunny Day
Lonesome Day
Badlands
* * *
We Are Alive
Born in the U.S.A.
Bobby Jean
Dancing in the Dark
Raise Your Hand
American Land